18th Weekly No.1 in the "Monogatari" anime franchise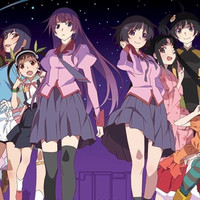 According to the newest Oricon report released today, the perfect limited production edition Blu-ray disc of the 12-episode short anime series Koyomimonogatari, released on June 29, sold 24,000 units in its first week, taking the top spot on the weekly overall Blu-ray disc sales charts. This is the 18th time for the Monogatari anime franchise to have the top-selling Blu-ray disc in the weekly charts. The last No.1 disc was the second volume of Onimonogatari released in May 2014.
Koyomimonogatari is the 11th installment (14th volume) in Nisio Isin's Monogatari light novel series published in May 2013. Its anime adaptation produced by Shaft has been available via the anime series' official app since January of this year.
DVD/Blu-ray jacket illustration by the anime character designer Akio Watanabe
【暦物語】6/29(水)発売のブルーレイ&DVDの渡辺明夫描き下ろしジャケットイラストを解禁!https://t.co/OeCmQVAqwq pic.twitter.com/5Ta2njwLiJ

— 西尾維新アニメプロジェクト (@nisioisin_anime) 2016年5月25日
Main visual
<物語>シリーズ公式アプリ「暦物語」12/19~AppStore&GooglePlayにてDL開始! ○新作短編アニメ「暦物語」1/9~限定無料配信 ○録りおろしボイス付日めくりカレンダー搭載 ○主題歌「whiz」TrySail pic.twitter.com/LC91VIgxuP

— 西尾維新アニメプロジェクト (@nisioisin_anime) December 10, 2015
Source: Oricon Style
© Ishin Nishio/Kodansha, Aniplex, Shaft