The ongoing fourth installment focuses on battles against Musashi Miyamoto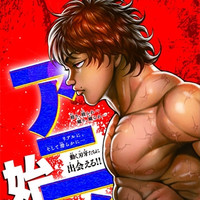 Akita Shoten has opened the 25th anniversary project site of Keisuke Itagaki's martial arts-themed manga series Baki, and announced a newly-produced OAD (original anime disc) will be bundled with the 4,190-yen limited edition of the 14th tankobon volume of the ongoing fourth installment Baki-Dou to be released on December 6, 2016. Pre-orders will be accepted till October 6. The franchise has been adapted into anime twice in the past, one volume OVA in 1994 and 48-episode TV anime in 2001, both were based on the manga's first installment Grappler Baki (1991-1999).
Following the second installment Baki (1995-2005) and third Hanma Baki (2006-2012), Baki-Dou started its serialization on Akita Shoten's Weekly Shonen Champion in 2014. The story focuses on battles against a clone of Musashi Miyamoto, one of the most famous and strongest samurai/swordsman in the 16th to 17th century of Japan.
【刃牙25周年企画開幕ッッ!!】
本日より「刃牙道」公式ツイッターを再開致します!
公式サイト開場ッッ!https://t.co/MPDeLXMTMJ#baki pic.twitter.com/JZS7nyBtOB

— 刃牙25周年ッッ!「刃牙道」公式 (@teambaki) July 6, 2016
【情報解禁ッッ!】
限定版オリジナルアニメDVD付き「刃牙道」発売ッ
完全予約制になっておりますのでお近くの書店にてご予約ください!
詳細はコチラhttps://t.co/egpdkxWOpZ#baki pic.twitter.com/2IEZHezCTP

— 刃牙25周年ッッ!「刃牙道」公式 (@teambaki) July 6, 2016
Latest 10th and 11th volume covers
Source: "Baki" series 25th anniversary project site, Team Baki Twitter