Launch date TBA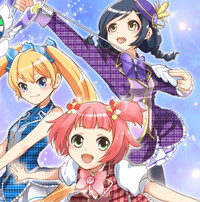 The time has come for another anime acquisition at Crunchyroll and today we bring you Naria Girls, a new show created using the real-time live animation software "Kigurumi Live Animator KiLA".
Launch date and regions will be announced later, but for now, here's more info...
About Nara Girls
The title "NariaGirls" is a Japanese pun for "Nariagaru" (rising in the world). The story centers on three girls: Urara, Hanabi and Inaho, who decide to make an anime series by themselves to become nationally popular characters. The theme that they choose to gain broad popularity from children to adult anime fans is "Magical Girl." Will they be able to produce a one-cour magical girl anime successfully and become popular characters?

Kotaro Ishidate, who previously worked on gdgd Fairies, Tesagure! Bukatsu-mono, and Q Transformers: Kaettekita Convoy no Nazo, is attached to direct and also servers as the series composition writer. Japanese illustrator Okazu Misoyama designs the anime characters, and he has posted a newly-drawn illustration featuring the main three girls on his Twitter.
The show is created using using "Kigurumi Live Animator KiLA" software which uses motion capture to animate CG characters in real-time.
Urara: Seria Fukagawa (Touko Fukami in Glasslip)
Hanabi: Aoi Koga (Yuri Ashida in Aikatsu Stars!)
Inaho: Yuuki Kuwahara (Hime Arikawa in Himegoto)
Animaru: Kotaro Ishidate (the director of the anime himself)
"Rehersal Video" below
Patrick Macias is editor in chief of Crunchyroll News & Otaku USA magazine.
He is also the writer of HYPERSONIC music club, Paranoia Girls, & PARK Harajuku: Crisis Team!