Takeshi Watanabe (Nekozamurai)-directed film hits theaters October 15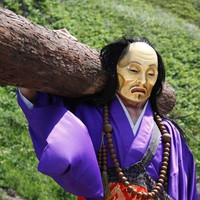 A new 24-second teaser for Higanjima Deluxe, a new film adaptation of Kouji Yamamoto's horror survival manga series Higanjima, has been posted on YouTube. It focuses on Ryunosuke Aoyama, aka Shisho (Master), who is the leader of the resistance group against vampires and monsters. It is also confirmed the 262cm-tall character is voiced by 74-year-old Japanese actor Renji Ishibashi, who is well known for his portrays as yakuza and outlaws.
The manga was previously adapted into a live-action film directed by Kim Tae-kyun in 2010, and a 10-episode TV drama supervised by Takashi Miike in 2013. The two main cast of the 2013 drama, Shunya Shiraishi as Akira Miyamoto and Ryohei Suzuki as his older brother Atsushi Miyamoto, reprise their roles in the 2016 film. Takeshi Watanabe (Nekozamurai series) serves as the director on the screenplay co-written by Sakichi Sato (Ichi the Killer) and Hidehiro Ito (Doreiku - Boku to 23-nin no Dorei), The film is set for a release in Japan on October 15, 2016.
2nd teaser
1st teaser
Poster visual
via: Cinema Today