Starts tomorrow 7/8 at 10:30am PT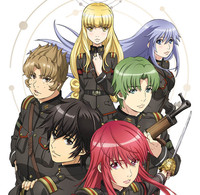 Another title previously announced at the Crunchyroll Summer ROLLOUT special, we finally have more info for you regarding the upcoming stream for Alderamin on the Sky, a new anime based on Bokuto Uno's fantasy light novels featuring animation by studio Madhouse.
Alderamin on the Sky launches Friday, July 8th at 11:30am PT for Crunchyroll members worldwide except for Asia.
About Alderamin on the Sky
ALDERAMIN ON THE SKY is directed by Tetsuo Ichimura and features animation by Madhouse. The story follows the fictional history of the Katvarn Empire and the unlikely rise of Ikta Sorok - a lazy and lecherous young man - as the country's greatest military hero.
Patrick Macias is editor in chief of Crunchyroll News & Otaku USA magazine.
He is also the writer of HYPERSONIC music club, Paranoia Girls, & PARK Harajuku: Crisis Team!