Original TV anime about VR-based idols debuts on Tokyo MX in October of 2016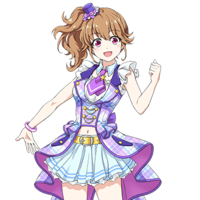 A new teaser trailer for Idol Memories reveals the cast and characters for the upcoming original TV anime which brings a virtual reality twist to the world of idol singers.
Idol Memories envisions a near-future setting where ubiquitous VR technology has revolutionized travel and entertainment. Idol concerts now take place mostly in virtual reality, and two rival groups from a once-prestigious school for idol singers compete for the top spot in the "Idol League". The cast and characters announced include:
Moe Toyota as Vivi Lin. Vivi is described as a frank person with a bright personality, and she is the mood-maker of her group. Vivi is trained in karaoke and so she acts as the center for her group, StarRing. A native of Shanghai, Vivi dreams of one day performing a fantastic live concert in China.
Marika Hayase as Sena Hattori, the oldest member and self-proclaimed leader of StarRing. Although she looks like the wise, older-sister type, in reality she's the exact opposite and a bit of an airhead. Sena boasts that there is no one better than herself at building with Lego Blocks, which is her hobby.
Yuu Kimura as Kokona Hayakawa, a girl overflowing with idol-like cuteness. Kokona wishes to follow in the footsteps of her great-grandmother, who was a stage actress. Behind her smile, Kokona is filled with passionate intensity. She has experience studying abroad in China.
Mayu Sagara as Miku Kajiwara. Miku is the youngest member of Shadow, but serves as the group's leader. Miku is a serious-minded and diligent girl who generally tries to act like an adult, but because she's also the youngest, she often plays the straight-man to her fellow group members' antics.
Ruriko Aoki as Yucho La. Yucho wants to be an idol, but she's an essentially lazy girl and doesn't want to put the effort in. She won't even lift a finger to tidy up her dorm room, leaving that duty to the other members of her group. Yucho's best friend is an enormous Husky dog. Yucho was born in Dailan, China.
And Riko Kohara as Nanami Hoshi, an easily embarrassed and shy girl who isn't uncomfortable around other women. Namami is fond of indoor hobbies, such as collecting toys and figures and computer programming. She sometimes wears glasses to correct her poor vision.
The previously announced staff for Idol Memories includes:
Draft, original work: Happy Elements Asia Pacific
Director: Katsuya Kikuchi
Screenplay:

Hiroshi Ōnogi

Character design and general animation director: Rena Okuyama

Sound director: Chikako Yokata

Animation production: Seven Arcs Pictures
Idol Memories begins its Japanese broadcast on Tokyo MX in October of 2016.
Source:
Official Idol Memories TV anime home page
Paul Chapman is the host of The Greatest Movie EVER! Podcast and GME! Anime Fun Time.