Launches today, July 8, at 7pm PT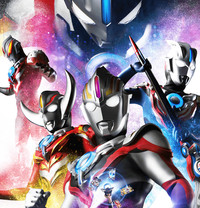 There's more… much more… to Crunchyroll's summer simulcasts than just the latest anime. Today, Ultraman Orb, the latest in Tsuburaya Production's long-running, live-action, monster-mashing Ultra series begins streaming!
Ultraman Orb begins launches today, July 8, at 7:00pm PT and is available for Crunchyroll members worldwide except Asia.
About Ultraman Orb
The year 2016 marks the 50th anniversary of Ultraman, the 1st entry in Tsuburaya Productions' long-running Ultra series of tokusatsu TV shows, and the veteran special effects studio is gearing up to celebrate with a new entry entitled Ultraman Orb.
The series stars Hideo Ishiguro as Gai Kurenai / Ultraman Orb, who will use transformations to call upon the power of previous Ultraseries heroes such as Ultraman Taro, Ultraman Jack, and Ultraman Mebius. Director Kiyotaka Taguchi returns as the chief director for the series, while the series composition will be handled by Takao Nakano and Yuji Kobayashi.
Patrick Macias is editor in chief of Crunchyroll News & Otaku USA magazine.
He is also the writer of HYPERSONIC music club, Paranoia Girls, & PARK Harajuku: Crisis Team!