New DVD/Blu-ray "Kishi Kaisei" will be released in seven editions on August 17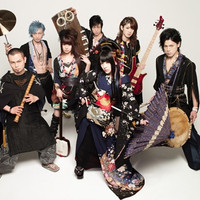 Avex has posted a full version music video for eight-member Japanese rock band Waggaki Band's "Strong Fate." The song was featured as an image song for the 2015 Japanese horror film Zane - Sundewa Ikenai Heya, and has been available only in digital format through online retailers since January of this year. Its music video is finally filmed for some editions of the band's next DVD/Blu-ray disc "Kishi Kaisei" to be released in seven editions on August 13.
"Strong Fate" MV
YOU MUST WATCH NOW!! WagakkiBands' latest music video... #和楽器バンド / 「Strong Fate」Full size music video #WGBhttps://t.co/6eloJ6C81l

— 和楽器バンド*WagakkiBand (@WagakkiBand) July 8, 2016
"Kishi Kaisei" regular edition CD jacket
Artist photo
---
The band will soon start their first US tour titled "-DEEP IMPACT-," which is scheduled to run trough
three cities: Los Angeles (Club Bahia) on July 12, San Diego (House of Blues) on July 14, and San
Francisco (The Fillmore) on July 16.
"DEEP IMPACT" trailer
Source: Waggaki Band official website
©2016 avex music creative. All rights reserved.