Collaboration items with Sabae-city that produces 90 percent of Japanese glasses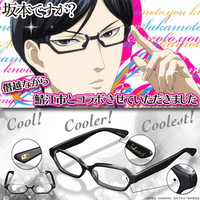 Bandai's official online store Premium Bandai today started accepting pre-orders for two types of replica glasses based on the one worn by Sakamoto, the protagonist of the TV anime Haven't You Heard? I'm Sakamoto. These are collaboration items with Sabae-city in Fukui Prefecture, that produces 90 percent of Japanese glasses. The city previously collaborated with the 2013 TV anime Meganebu! that focused on the members at the Glasses Club of the Himaraya Third Technical School.
The products are manufactured by Yamamori Megane, one of the oldest frame makers in the city, that has produced anime replica glasses for Osomatsu-san and JoJo's Bizarre Adventure. The price for the regular edition is 14,040 yen (about 135 US dollars) and that of the deluxe edition with a mole-like Swarovski is 15,120 yen (145 US dollars).
Cleaner cloth
Source: press release
(C)Nami Sano, KADOKAWA/Sakamoto Desuga? Production Committee