Directed by Masayuki Sakoi (Strawberry Panic, Celestial Method)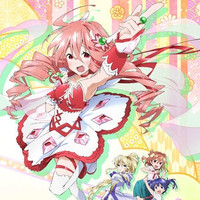 The official website of WHITE FOX's new Japanese taste magical girl-featured TV anime Soushin Shoujo Matoi/Matoi the Sacred Slayer opens today for an October 2016 premiere, announcing its main production staff and three main voice cast. The anime's official YouTube channel also posts 15- and 30-second CMs introducing its characters.
The Tokyo-based company is well-known for their recent successful anime series such as Is the Order a Rabbit? (2014-2015) and Re:Zero -Starting Life in Another World- (2016). Matoi is their first original TV anime series. Currently, four-member popular anime voice actress unit sphere is scheduled to perform the anime's yet-titled ED song.
The story is set in 2016 and centers on 14-year-old girl Matoi Sumeragi, who is a second-year junior high school student now. She also works as a part-time miko (shrine maiden) at Tenman Jinjya (Tenman
Shrine) in Kamaya-city. One day her special ability that can turn away evil spirits by wearing "Gods"
awakes. With her best friend Yuma Kusanagi, who was born in a family of the kannushi (shinto priest)
clan at the shrine, she decides to begin anti-evil activity in order to get back her normal life.
Main Staff:
Director: Masayuki Sakoi (Strawberry Panic, Celestial Method)
Series Composition/Scenarios: Yosuke Kuroda (Gundam Build Fighters, My Hero Academia)
Character Designer/Chief Animation Director: Mai Toda (Neppu Kairiku Bushi Road)
Music: Tatsuya Kato (Free!, Love Live! Sunshine!!)
Music Production: Lantis
Anime Production: WHITE FOX (Is the Order a Rabbit?, Re:Zero -Starting Life in Another World-)
Main Voice Cast:
Matoi Sumeragi: Ayaka Suwa (Touka Yada in Assassination Classroom)
Yuma Kusanagi: Naomi Ozora (Inari in Inari, Konkon, Koi Iroha)
Klarus Tonitrus: Haruka Tomatsu (Iona Hikawa/Cure Fortune in HappinessCharge PreCure!)
Main Visual
【ニュース】諏訪彩花さん・大空直美さん・戸松遥さん出演で、TVアニメ『装神少女まとい』が放送決定! なんと和風魔法少女が大活躍!? https://t.co/bhn3X849eB pic.twitter.com/6p57Vec2TT

— アニメイトタイムズ公式_旧アニメイトTV (@animatetimes) 2016年7月15日
30-second CM
15-second CM
Source: "Soushin Shoujo Matoi" official website, Animate Times
© BOWI/Matoi Production Committee