Meet Ms Minamoto no Yorimitsu and Servants of Tenma's Marvelous Folklore - Onigashim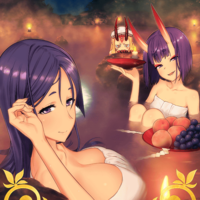 Before the Fate/Grand-Order smartphone RPG really got going, the Nasu-verse used gender-swapped Servants somewhat sparingly. It was mostly the Seibākao with a few other jokes and take-offs. Now, the breaks are off the flipping train. Recently, there's been Shuten-dōji, designed by Raita Honjou (Valkyria Chronicles), Xuanzang from Okazaki Takeshi, and now, getting the most attention in the latest event, is Minamoto no Yorimitsu by RAITA again.
Historical depiction by Kikuchi Yōsai
5★ Berserker Minamoto no Yorimitsu, voiced by Tomatsu Haruka and illustrated by Honjou Raita
The event is Tenma's Marvelous Folklore - Onigashima, a follow to last month's Restless Drunk Demons Capital - Rashomon, the star of which is ostensibly its reward, 4★ Rider - Sakata Kintoki voiced by Yusa Kouji, illustrated by Honjou Raita
The game previously featured 5★ Berserker Sakata Kintoki designed for Fate/Apocrypha and previously featured in Fate/complete material IV Extra material.- voiced by Kōji Yusa, illustrated by Raita Honjou.
Ibaraki Douji, the boss o the previous event, is now available to the players in this event. Hidari illustrates the character voiced by Nao Toyama
and 3★ assassin Fuma Kotarou, voiced by Hanae Natsuki and illustrated by Sasaki Shonen
rate-ups include 3★ Rider Ushiwakamaru/Minamoto no Yoshitsune. voiced by Hayami Saori and illusrated by Mineji Sakamoto
★ Berserker Kiyohime, voiced by Risa Taneda and illustrated by BLACK
Craft Essences include
Dumplings Over Flowers - featuring Matthew Kyrielite, Ushiwakamaru and Fou-kun.
The Faithful Dog Who Waits - featuringTamamo no Mae, Kiyohime.
Hidden Blade : Pheasant Reversal - featuring Sasaki Kojirou and Fuma Kotarou.
Hot Spring of the Moon - featuring Minamoto no Yorimitsu, Shuten Douji and Ibaraki Douji.
Golden Sumo Wrestling ~Rocky Arena~ - featuring Sakata Kintoki (Rider) and Musashibou Benkei.
And a few of the tributes
あ~~~頼光様かわいいんじゃあ~~~#FGO #FateGO pic.twitter.com/0fFr1q62JV

— ゆすき (@yusuki0921) July 14, 2016
お題「源頼光」

+15分失礼します!召喚できますように…!#女性キャラ版fateワンドロ pic.twitter.com/405iaj1yup

— カナ (@kana_kkn) July 9, 2016
頼光ママ…サイレント怖い pic.twitter.com/7VmYj0hVC1

— しろくまこ(オルタ (@info_whitemako) July 13, 2016

------
Scott Green is editor and reporter for anime and manga at geek entertainment site Ain't It Cool News. Follow him on Twitter at @aicnanime.