Two day "Last Ex-Night" event in September includes guest talk featuring Aki Toyosaki and others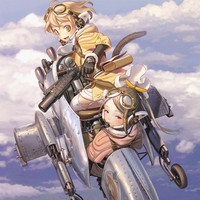 Last Exile: Fam, the Silver Wing is celebrating its 5th anniversary with an all-night theatrical screening and guest talk event that will take place on September 17 and 18, 2016, at the Brillia SHORTSHORTS Theater in Yokohama, Kanagawa Prefecture, Japan.
The event, entitled "Last Ex-Night vol 4", will include guest talks featuring voice actors Aki Toyosaki (the voice of Fam Fan Fan), Junko Noda (the voice of Dio Eraclea), Tetsu Inada (the voice of Atamora Collete), Kazuyuki Okitsu (the voice of Luscinia Hāfez), and Masaya Matsukaze (the voice of Alauda). Tickets to the event cost 7000 yen ($66.79 US) including tax.
Last Exile: Fam, the Silver Wing is directed by Koichi Chigira and features animation by Gonzo. The series is licensed and distributed in the U.S. by Funimation, who describe the story as follows:
"Years ago, humanity abandoned the ruined Earth. Generations later, with the planet again capable of sustaining life, mankind returned. In the skies above the reborn world, rebellious young Fam and her best friend Giselle make their living as Sky Pirates. Atop sleek Vespa Vanships, the girls dart fearlessly through the clouds, capturing and selling airborne battleships for profit. It's a life of care-free swashbuckling – until the Ades Federation attacks.
The only nation to remain on Earth during humanity's exile, The Ades Federation wages war against those who returned only after the planet's darkest days had passed. When Fam and Giselle rescue a princess from the clutches of the rampaging Ades armada, they join the young royal's battle to save her Kingdom from destruction – and undertake the impossible mission of uniting humanity in peace."
Source: MoCa
Paul Chapman is the host of The Greatest Movie EVER! Podcast and GME! Anime Fun Time.