Directed by Hiroyuki Hashimoto (Is the Order a Rabbit?)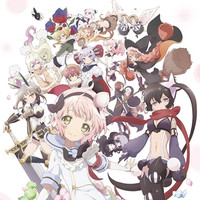 The official website of the upcoming TV anime adaptation of Asari Endou's light novel series Mahou Shoujo Ikusei Keikaku/Magical Girl Raising Project today confirms its October 2016 premiere in Japan, and reveals its two main voice cast, Nao Toyama (Chitoge Kirisaki in Nisekoi) as Snow White and Manami Numakura (Hibiki Ganaha in The [email protected]).
Numakura is also confirmed to sing the anime's OP song "Sakebe (Shout)," and it will be released as her solo singer debut single. The song is now featured in a 80-second second PV introducing the 16 magical girls, but its legitimate YouTube video is currently region-locked for some countries including the US.
The fantasy action series has been published from Takarajimasha's Kono Light Novel ga Sugoi! Bunko imprint since June 2012 and currently 10 volumes are available in Japan. Hiroyuki Hashimoto, best known
for his works for the Is the Order a Rabbit? series, is attached to direct the TV anime adaptation, alongside
series composition writer Takao Yoshioka (Your Lie in April, The Testament of Sister New Devil) and character
designer Yukiko Aikei (Accel World, Your Lie in April). Lerche (Assassination Classroom, School-Live!) works
on anime production.
New key visual
今日はお知らせがたくさんです!
まずは、キービジュアルを公開しました!16人の魔法少女たちがズラリ!こう見えて、皆さん魔法少女ですよ♪キャラクターデザインは、「アクセル・ワールド」などを担当された愛敬由紀子さん! #mahoiku pic.twitter.com/R02wgiFs5A

— TVアニメ「魔法少女育成計画」 (@mahoiku_anime) July 21, 2016
Snow White: good-natured rookie magical girl: (CV: Nao Toyama)
キャスト・スタッフも更新!スタッフには、先ほどお知らせしたキャラクターデザインの愛敬由紀子さん、キャストは今回2名!まずは、お人好しな新人魔法少女・スノーホワイト役に、東山奈央さんが決定! #mahoiku pic.twitter.com/04TnkCFOS8

— TVアニメ「魔法少女育成計画」 (@mahoiku_anime) July 21, 2016
Ripple: short-tempered trenchant magical ninja (CV: Manami Numakura)
そしてもう一人!忍者のような姿の魔法少女・リップル役に、沼倉愛美さんが決定!ソロデビューを果たした沼倉さん、本作のオープニングテーマも担当!タイトルは「叫べ」! https://t.co/G1T437pWJ9
#mahoiku pic.twitter.com/Cym68jascS

— TVアニメ「魔法少女育成計画」 (@mahoiku_anime) July 21, 2016
Manami Numakura's new artist photo
こちらの公式Twitterでは宣伝からのお知らせもつぶやいて行きますのでよろしくお願い致します。早速のお知らせ!公式HPオープン!新しいアーティスト写真も公開! https://t.co/KaGnpjJ3p8 #nu_nu_nu pic.twitter.com/zAU7VHhmeQ

— 沼倉愛美(公式) (@numakura_manami) July 21, 2016
---
1st PV
Novel 1st and 8th volume covers
Source: "Mahou Shoujo Ikusei Keikaku" TV anime official website, Twitter
© 2016 Asari Endou, Takarajimasha/Mohoiku