Five-member rock band's 3rd major single will be available on August 31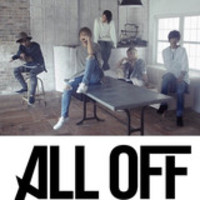 Warner Entertainment Japan has posted a short music video for five-member Japanese rock band ALL OFF's upcoming 3rd major single "Refrain Boy" on its official YouTube channel. The song has been featured as the ED theme for the ongoing TV anime adaptation of ONE's comedy action manga series Mob Psycho 100 since its July 12 premiere.
The band made their major debut from Warner Japan in November 2015 and their 1st single "One More Chance!!" was used as the 1st OP song for the TV anime Heavy Object, then their 2nd single "Never Gave Up" was features as the 2nd OP theme. Their 3rd single "Refrain Boy" will be released in Japan on August 31.
The Bones-produced TV anime Mob Psycho 100 is now available for Crunchyroll members worldwide except for Asia.
"Refrain Boy" short MV
New artist photo
© ALL OFF
---
1st single "One More Chance!!" MV (November 4, 2015)
2nd single "Never Gave Up" MV (February 10, 2016)
Source: All OFF official website