Dark comedy series has been adapted into TV anime, OADs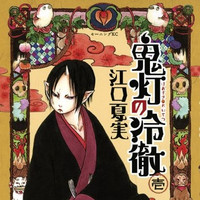 Kodansha announced on July 22 that the print run of Natsumi Eguchi's Hozuki no Reitetsu dark comedy manga series (including its related works such as the illustration collection) in Japan has reached 10 million copies with its newest 22nd volume released on the day. Both print and digital edition of the volume have been available. With its next 23rd volume, the total print run of the manga tankobon only is expected to reach the 10 million mark.
The manga has been serialized in Weekly Morning since April 2011. Its 13-episode TV anime adaptation animated by WIT STUDIO was aired in Japan from January to April 2014, then three-episode OAD was also produced as the bonus items for the limited editions of the manga's 17th to 19th volume published in 2015.
Manga 1st and 22nd volume covers
Source: Kodansha
(c) Natsumi Eguchi/Kodansha