Directed by Masashi Kudo (Hayate the Combat Butler, Re-Kan!)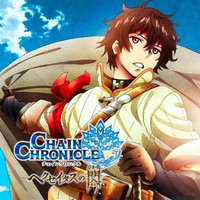 The official website of the upcoming TV anime Chain Chronicle: Haecceitas no Hikari (Chain Chronicle: The Light of Haecceitas) based on Sega Networks' popular smartphone RPG announced today that three-part "film edition" will get time-limited theatrical screenings from December 2016 to February 2017, ahead of the TV anime's premiere.
The first part will be screened from December 3, 2016, for a limited time of two weeks, then the second will follow on January 14, 2017, the third will be released on February 11. Advance tickets for the all three parts will go on sale on August 6.
Masashi Kudo, best known as the character designer of the Bleach anime series and recently directed Hayate the Combat Butler Cuties and Re-Kan!, is attached to direct and design the anime version characters. Telecom Animation Film (Lupin The third Part 4, orange) and Graphinica (Expelled from
Paradise) jointly work on anime production. Currently there is no information about the TV anime's premiere
schedule.
The game started its service in July 2013 and has been downloaded over five million times. Takeshi Mori
(Vandread, Stratos 4) directed its eight-episode OVA released in December 2014.
Poster visual
アニメ『チェンクロ』ポスタービジュアルも解禁!■第1章 12/3~■第2章 1/14~■第3章 2/11~ 2週間限定イベント上映決定!https://t.co/0PH2GqD2hp #アニメチェンクロ pic.twitter.com/G2ZBPxSp1K

— アニメ「チェインクロニクル」公式 (@ChroAnime) July 26, 2016
SSR Arcana images come with the advance ticket
全3章前売り綴り券の発売決定!特典は「チェインクロニクル ~絆の新大陸~」で使えるSSRアルカナ!アニメ版 黒騎士/ユリアナ/ファティマの3種から1種選べます。詳細:https://t.co/0PH2GqD2hp #アニメチェンクロ pic.twitter.com/NG5tgXSyQe

— アニメ「チェインクロニクル」公式 (@ChroAnime) July 26, 2016
Pilot film released in December 2015
Source: TV anime "Chain Chronicle: Haecceitas no Hikari" official website, Twitter
© SEGA/Chain Chronicle Pertners