Volume 11 of "Kannagi" released today with collaboration pin-up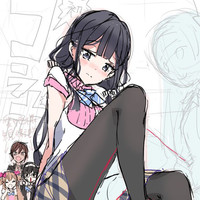 Timed for the release of the September issue of home magazine Comic Rex, the anime of the Masamune-kun's Revenge manga—written by Hazuki Takeoka and illustrated by Tiv— launched its Twitter account today. Also from Rex, volume 11 of Eri Takenashi's Kannagi is out today. Each volume of Kannagi does a collaboration pin-up, to, to give #MASA_A a promotional push, Tiv does the honors for volume 11.
Seven Seas has begun releasing Masamune-kun's Revenge.
Bandai released three volumes of Kannagi in North America along with its anime adaptation.
「政宗くんのリベンジ」アニメ公式ツイッター公開しました!
今後アニメの最新情報や作品の魅力をお伝えしていきますのでよろしくお願いいたします!
HP:https://t.co/kKWwJWcIZH
推奨ハッシュタグ:#MASA_A pic.twitter.com/c04igDtj8k

— masamune_tv (@masamune_tv) July 27, 2016
【メイキング公開☆】本日発売の『かんなぎ』11巻に収録されている、『政宗くんのリベンジ』Tiv先生とのコラボピンナップですヾ(・∀・`*)
こうやって作られていくんですねー☆(続く)#かんなぎ #メイキング pic.twitter.com/hGCaGQ0D8K

— REX編集部@最新9月号本日発売!!ろん (@Re_REX) July 27, 2016
【メイキング公開その②☆】本日発売の『かんなぎ』11巻に収録されている、『政宗くんのリベンジ』Tiv先生とのコラボピンナップですヾ(・∀・`*)
これで完成です!あとは単行本でじっくりとご覧くださいヾ(●´∀`●)☆#かんなぎ pic.twitter.com/9mQMY8U0MF

— REX編集部@最新9月号本日発売!!ろん (@Re_REX) July 27, 2016
Here's how Seven Seas sums it up:
As an overweight child, Makabe Masamune was mercilessly teased and bullied by one particular girl, Adagaki Aki. Determined to one day exact his revenge upon her, Makabe begins a rigorous regimen of self-improvement and personal transformation.
Years later, Masamune reemerges as a new man. Handsome, popular, with perfect grades and good at sports, Masamune-kun transfers to Aki's school, and is unrecognizable to her. Now, Masamune-kun is ready to confront the girl who bullied him so many years ago and humiliate her at last. But will revenge be as sweet as he thought?

------
Scott Green is editor and reporter for anime and manga at geek entertainment site Ain't It Cool News. Follow him on Twitter at @aicnanime.