Advance sales of the Blu-ray and streaming will start on the same day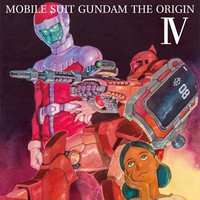 The Mobile Suit Gundam franchise's official portal site Gundam.Info today announced that the upcoming fourth chapter of the Mobile Suit Gundam: The Origin anime series, titled "Unmei no Zenya (Fateful Eve)," will be screened at 15 selected theaters across Japan for a limited time of two weeks from November 19. Advance pay streaming for the episode will also start simultaneously.
"Unmei no Zenya" will be the final episode of the "Char and Sayla" arc, focusing on the encounter between Char Aznable and Lalah Sune on the earth, and the first mobile suit fight in human history. While Char is still voiced by Shuichi Ikeda, in place of the original cast Keiko Han, Saori Hayami (Ayase Aragaki in Oreimo, Ha-chan/Kotoha Hanami/Cure Felice in Maho Girls PreCure!) is newly cast as Lalah. A limited number of the Collector's Edition Blu-ray of the episode will be sold at the price of 10,000 yen at the theaters.
"Mobile Suit Gundam: The Origin IV" Collector's Edition Blu-ray
Regular edition Blu-ray
Regular edition DVD
---
Main visual
Scenes from the 4th chapter
Source: Gundam.Info
© Sotsu/Sunrise