Their last concert will be held on November 5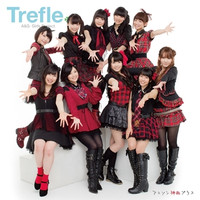 The official website of the 10-member anime voice actress unit Trefle announced on July 29 that, as a result of a series of discussion, the unit has decided to stop their activities after their last album to be released on September 28 and last concert on November 5.
Trefle was originally formed as a six-member unit (Kano, Ishikawa, Ikki, Goto, Minami Takahashi, Tanoue) for their own internet radio program "A&G Girls Project Trefle" in April 2013, then other four members joined in April 2014. After the two indie albums from Second Shot, they made their major debut from FEEL ME with their 1st single "Butter-Fly" (the cover version of Koji Wada's Digimon Adventure theme song) in November 2015. Then they released their 2nd single "Sakura" in April 2016.
Current members:
Yui Kano (Momoko Kuzuryu in Sumomomo Momomo)
Yui Ishikawa (Mikasa Ackerman in Attack on Titan)
Chihiro Ikki (Ren Tsukimi in World Trigger)
Nanami Kashiyama (Momo/Momo Kisaragi in Mekakucity Actors)
Yukari Goto (Yuki Kawabe in Lemon Angel Project)
Eri Suzuki (Hikari Kohinata in Amanchu!)
Minami Takahashi (Megumi Tadokoro in Shokugeki no Soma)
Karin Takahashi (Yui Natsukawa in Ace of Diamond)
Ayumi Takamune (Udonko Kondo in the Teekyu stage play)
Marina Tanoue (Manami Mamiya in Durarara!!)
---
1st major single "Butter-Fly" 360° short MV
2nd single "Sakura" full MV
Source: Trefle official website
© SECONDSHOT, All rights reserved.