Games from companies like Capcom, Data East and Jaleco will be included with the set.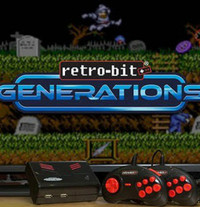 There's a new plug-and-play video game console on the horizon, and it's coming this fall. It's called the Retro-Bit Generations console, and it will supposedly feature over 100 games from developers like Capcom and Jaleco.
Some of the games that will purportedly be included are as follows: "Ghosts'N Goblins, Gun.Smoke, Kid Niki Radical Ninja, Kung-Fu, Captain Commando, Kickle Cubicle, Rival Turf, Super R-Type, The Super Bases Loaded Series, Knights of the Round, Brawl Brothers, Ring King and more."
At first glance, it seems like it could be too good to be true, but the company already creates systems like the RetroDuo and the RetroDuo Portable that are for sale currently. The Retro-Bit Generations console will come with two six-button USB controllers, AV and HDMI connections and an SD card slot. It'll release for $59.99.
Are you interested in picking up one of the boxes to get your retro gaming on?
[via Siliconera]
-------
Fueled by horror, rainbow-sugar-pixel-rushes, and video games, Brittany is a freelancer who thrives on surrealism and ultraviolence. Follow her on Twitter @MolotovCupcake and check out her portfolio for more.