If you prefer your engaging visual novels mobile, this is great news for you!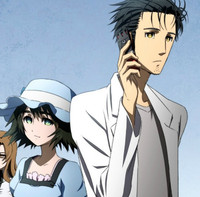 The excellent visual novel Steins;Gate is finally being released for mobile devices by way of iOS. This September, you'll be able to play it in English on your iPhone or iPad.
The news comes from creator Chiyomaru Shikura, who announced the good news on Twitter. Now the game's available for English-speaking fans on PlayStation 3, PS Vita and PC in addition to smartphones.
If you've seen the anime or are just jonesing for a new visual novel that turns the genre's normal tropes on their head, you can't go wrong with Steins;Gate.
[via Gematsu]
-------
Fueled by horror, rainbow-sugar-pixel-rushes, and video games, Brittany is a freelancer who thrives on surrealism and ultraviolence. Follow her on Twitter @MolotovCupcake and check out her portfolio for more.