Femto's never looked this good before.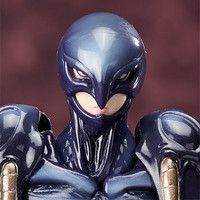 If you've been following along with the new Berserk series on Crunchyroll like I have, you're probably waiting for Griffith, also known as Femto, to make his grand reappearance. That's why this new figma Femto figure comes as a sight for sore eyes.
This Griffith/Femto figma comes with articulated wings, alternate wrist parts, stand and plenty of joints so you can pose him into all sorts of positions. You can also pick up the rest of God Hand when those figures are released, though they all come separately.
Preorders for Femto are available until August 17 and he'll run you ¥7,389 before tax. It's truly a gorgeous figure though, and one I'd love to add to my collection. And just check out God Hand all together!
[via GoodSmile]
-------
Fueled by horror, rainbow-sugar-pixel-rushes, and video games, Brittany is a freelancer who thrives on surrealism and ultraviolence. Follow her on Twitter @MolotovCupcake and check out her portfolio for more.