Online contest offers entrants a chance to design their own spooky denizen of the Underworld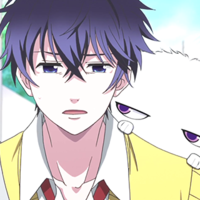 Square Enix's Gangan Online web magazine is teaming up with Kiri Wazaya's manga and TV anime, The Morose Mononokean, in a contest that asks contestants to submit their own original yokai creations. Entries are open until September 07, 2016, and the winners will be announced on the official Gangan Online website.
To enter, contestants must follow the official Twitter feeds for Gangan Online (@ganganonline) and The Morose Mononokean TV anime (@mononokean_tv) and submit their entry in JPEG format using the contest hashtag #不機嫌なモノノケ庵妖怪イラストコンテス. Entries can feature designs that are in either humanoid or yokai form, but they must be original, unpublished characters in order to be eligble for the contest.
The grand prize winner of the contest will receive a one-of-a-kind poster (signed by voice actors Yūki Kaji and Tomoaki Maeno) which includes their yokai design as part of the artwork. There is also a Kiri Wazaya prize, in which one winner will receive a colored drawing of their yokai design illustrated and signed by manga author Kiri Wazaya. Finally, 100 lucky winners will walk away with character goods of Fuzzy in the form of a drinking glass.
Please note: although the contest is open to entries from fans from outside of Japan, the prizes can only be shipped within Japan, so winners must have a domestic address in Japan to receive any of the prizes. For more details, you can check out the official contest page here.
Sources:
Official "The Morose Mononokean Original Yokai Contest" page