BURNOUT SYNDROMES, NICO Touches the Walls perform the theme songs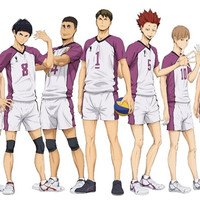 The official website of the anime adaptations of Haruichi Furudate's volleyball-themed manga Haikyu!! today released a group visual of the Shiratorizawa members for its upcoming TV anime 3rd season titled Haikyu!! Karasuno High School vs Shiratorizawa Academy.
【新ビジュアル(白鳥沢学園高校)】『ハイキュー!! 烏野高校 VS 白鳥沢学園高校』春の高校バレー宮城県代表決定戦・決勝で烏野高校が挑む強豪・白鳥沢学園高校の新イラストを公開です!! https://t.co/RaN44nyTBZ pic.twitter.com/whBdyVHH81

— アニメ「ハイキュー!!」 (@animehaikyu_com) August 1, 2016
Teaser for the third season
---
It is also confirmed that the new season's OP theme song "Hikariare" (Let there be light) is performed
by three-member Japanese rock band BURNOUT SYNDROMES, while its ED song "Mashi Mashi" is
played by fou-member group NICO Touches the Walls. The former previously provided their 1st major
single "FLY HIGH!!" as the 2nd OP song for the anime's 2nd season, while the latter's 15th single
"Tenchi Gaeshi" was used as the 1st ED song for the 1st season.
BURNOUT SYNDROMES
NICO Touches the Walls
Source: "Haikyu!!" TV anime 3rd season website, Twitter
© Haruichi Furudate/SHUEISHA Inc.
© Haruichi Furudate/Shueisha, "Haikyu!!" Production Committee, MBS