21st PreCure feature film hits Japanese theaters October 29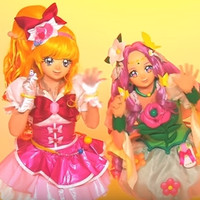 Toei has posted a 160-second dance lecture video for "Tadashii Mahou no Tsukaikata (The Correct Way to Use Magic)," the theme song of the upcoming feature film Eiga Mahou Tsukai PreCure! Kiseki no Henshin! Cure Mofurun! (Maho Girls PreCure! The Movie: Miracle Transformation! Cure Mofurun!), guided by the three PreCure girls of the show: Cure Miracle, Cure Magical and the recently-joined Cure Felice. The song is written by Yasushi Akimoto, the producer of the girls idol group AKB48 and is performed by its member Mayu Watanabe.
The 21st PreCure feature film (13th non-All Stars film) will open in Japan on October 29, 2016.
Dance lecture video
Full trailer
Poster visual
Source: "Eiga Mahou Tsukai PreCure!" official website
© 2016 Movie Mahou Tsukai PreCure! Production Committee