190mm-tall figure is scheduled to be shipped in late December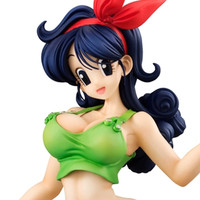 Following the already introduced blond version, Megahouse has also listed a black hair version figure of Lunch from the Dragon Ball anime franchise for a late December 2016 release in Japan. It is the fifth item from the company's "Dragon Ball Gals" line that dedicates in creating the franchise's female character figures through a unique viewpoint.
The first product from the line was Bulma's bunny girl version figure released in March 2016, then her army version, Android 18, and Lunch's blond version have been added. Pre-orders for the 10,638-yen black hair version Lunch will begin at selected stores (MegaTrea Shop, Premium Bandai, AmiAmi, Digitamin) at 16:00 on August 4 (JST).
Source: press release
(C) Bird Studio/Shueisha, Toei Animation