All 13 episodes go live today at 4pm PST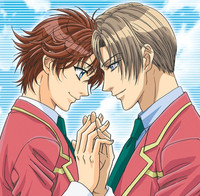 Crunchyroll's ever-expanding back catalog of anime gets a +1 today in the form of Gakuen Heaven, a 13 episode anime from 2006 based on the popular PC game by SPRAY.
Gakuen Heaven launches today, Tuesday, August 2 at 4pm PST for Crunchyroll members in the following territories: US, Canada,UK, Ireland, Australia and New Zealand.
About Gakuen Heaven
Ito Keita has one thing in his favor: luck! And luck has just landed him a special invitation to attend the Bell Liberty Academy for Boys, an exclusive high school only for the most privileged, the most talented, and the most beautiful. When a strange accident on move-in day attracts the attention of Niwa Tetsuya, the student body president, and Saiyonji Kaoru, the class secretary, Ito finds himself the center of attention. With the eyes of a whole school of pretty boys on him, where will Ito find the time to unravel the mystery of his invitation?
Patrick Macias is editor in chief of Crunchyroll News & Otaku USA magazine.
He is also the writer of HYPERSONIC music club, Paranoia Girls, & PARK Harajuku: Crisis Team!