"Kizumonogatari I: Tekketsu-hen" takes No.1 on the Blu-ray chart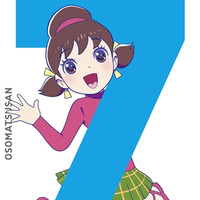 According to the newest Oricon report released today, the first press limited edition of the seventh DVD volume of the TV anime Osomatsu-san/Mr. Osomatsu takes first place in its weekly overall (including all genres) DVD sales chart selling 18,000 units in its first week. Following the fourth and fifth volume, this is the third time for the anime franchise based on Fujio Akatsuka's classic gag manga in the 1960s to take the top place in the overall chart.
The final eighth volume (episode 22-25) is set to be released on August 26. Since all of the previous seven volumes have taken first place in the anime DVD sales chart, the next volume is expected to achieve the same level of success.
Meanwhile, the volume's Blu-ray disc ranks second in the overall Blu-ray chart with 17,000 units. The week's top-selling Blu-ray was the perfect limited production edition of Kizumonogatari I: Tekketsu-hen
that sold 36,000 units.
DVD seventh and eitgh volume jacket illustrations
"Osomatsu-san" main visual
© Fujio Akatsuka/O