Second edition advance tickets with a clear file will go on sale on August 6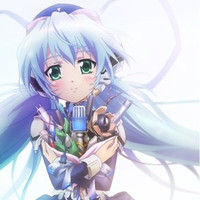 Following the streaming of the final fifth episode of the web series last night, the official website for the anime project based on Key's planetarian Chiisana Hoshi no Yume/The Reverie of a Little Planet visual novel has posted a new two-minute trailer for its upcoming film edition to be released in Japan on September 3. The clip introduces the film's theme song "Hoshi no Fune" (Star Ship) composed by Shinji Orito and performed by Lia. The two are best known for their previous collaboration song "Tori no Uta," the theme song for Key's AIR adult Pc game and its TV anime adaptation.
The five-episode web series "Chiisana Hishi no Yume" that has been streamed since July 7 is based on the main story of the game, and the feature film tells an after story "Hoshi no Hito" fucusing on Kuzuya voice by Daisuke Ono.
New trailer
Theme song "Hoshi no Fune" CD jakcet illustration
Second edition advance tickets with a clear file will go on sale on August 6
9月3日劇場公開!
第二弾特典付前売り券8月6日より販売開始です!
特典第二弾は劇場版キービジュアルを使用したクリアファイルとなります!https://t.co/UGdtm2rN8l #planetarian_anime pic.twitter.com/K98raiWJMf

— アニメ「planetarian」 (@planetarian_pj) August 3, 2016
2nd main visual
すずきけいこ&小野大輔出演、劇場版「planetarian」新予告で主題歌「星の舟」解禁 https://t.co/ryiw9J6bJU #小野大輔 pic.twitter.com/LvUsifqKWG

— 映画ナタリー (@eiga_natalie) August 3, 2016
via: Movie Natalie