Kitadani's 3rd "One Piece" OP song hits stores August 24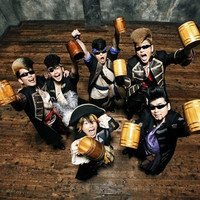 Avex has posted a four-minute music video for "We Can!," the current 19th OP theme song for the TV anime One Piece performed by Kishidan and Hiroshi Kitadani. The song has been used since the anime's 747th episode aired in Japan on June 26. This is Kitadani's 3rd OP song for the anime franchise, following the 1st "We Are!" (1st to 47th episode) and the 15th "We Go!" (517th to 590th).
The MV was filmed at Harmony Hall Zama in Kanagawa Prefecture on July 16, before the six-member band's concert without a previous announcement to the fans. The CD single is scheduled to be released on August 24.
CD jacket Illustration
Kishidan and Hiroshi Kitadani