Plus summer 2016 swimsuit art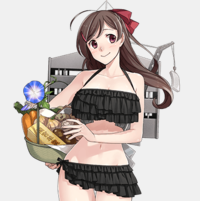 We've now been living in the KanMusu era for three years, and the browser game that started it off has been celebrating with anniversary KanColle art. Kuuro Kuro with Akitsu Maru, Amagi, Junyou, Katsuragi, Maruyu and Natori, while Shimada Fumikane, also known for Strike Witches, shared his take on an anniversary Z3.
「隼鷹」などのイラストを担当するくーろくろさんから、夏真っ盛りではありますが、「三」式潜航輸送艇「まるゆ」や「三」式指揮連絡機搭載の「あきつ丸」たちの楽しい「艦これ」三周年記念イラストを頂きました!ご紹介させて頂きます!#艦これ pic.twitter.com/u5htM40xGW

— 「艦これ」開発/運営 (@KanColle_STAFF) August 4, 2016
「Bismarck」「大鳳」などのイラストを担当する島田フミカネさんから、真夏にそのまま実装したくなるような浜辺の「Z3」、素敵な「艦これ」三周年記念イラストが到着しました!ありがとうございます。ご紹介させて頂きます。#艦これ pic.twitter.com/s0LcToME6y

— 「艦これ」開発/運営 (@KanColle_STAFF) August 6, 2016
This month and last, the game has also launched new 2016 early and mid-summer swimsuit CG
Mogami Class Heavy Cruiser Mikuma
Taigei Class Submarine Tender Taigei/Ryuuhou
Yamato Class Battleship Yamato
Kongou Class Fast Battleship Haruna Kai Ni
Seaplane Tender: Mizuho
Fusou Class Battleship Fusou
Nagara Class Light Cruiser Isuzu
Yuugumo Class Destroyer Kazagumo
Yuugumo Class Destroyer Okinami
Fusou Class Battleship Yamashiro
Mamiya
Irako


------
Scott Green is editor and reporter for anime and manga at geek entertainment site Ain't It Cool News. Follow him on Twitter at @aicnanime.