The number of total votes was 42,172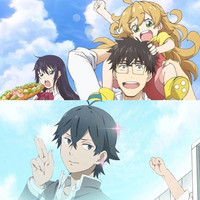 One month after the previously reported anticipation ranking, the largest Japanese mobile phone operator NTT Docomo today released the result of the current popularity ranking for the new TV anime titles that have premiered in this summer 2016 season. It was conducted with the users of the company's anime streaming service dAnime Store between July 29 and August 5, the number of total votes was 42,172 (voting for multiple titles was allowed). How the Japanese fans' opinion have changed after they watched the actual shows?, and which show overturn its previous reputation the most?
*the numbers in parentheses are those from the anticipation ranking.
1 (7). "Sweetness and Lightning" - 2,738
2 (5). "Handa-kun" - 1,972
© Satsuki Yoshino/Square Enix, Handa-kun Production Committee
3 (18). "NEW GAME!" - 1,963
4 (13). "This Art Club Has a Problem!" - 1,946
5 (2). "The Heroic Legend of Arslan: Dust Storm Dance" - 1,885
5 (12). "The Morose Mononokean" - 1,885
5 (4). "Love Live! Sunshine!!" - 1,885
8 (3). "Shokugeki no Soma: The Second Plate" - 1,726
9 (34). "Qualidea Code" - 1,521
10 (16). "ReWrite" - 1,372
11 (9). "Danganronpa 3: The End of Hope's Peak Academy: Side Future" - 1,356
12 (10). "Danganronpa 3: The End of Hope's Peak Academy: Side Despair" - 1,347
13 (40). "Taboo Tattoo" - 1,293
14 (21). "First Love Monster" - 1,226
15 (26). "SERVAMP" - 1,196
16 (6). "D.Gray-man HALLOW" - 1,194
17 (24). "Tales of Zestiria the X" - 1,135
18 (34). "DAYS" - 1,131
19 (25). "Hybrid x Heart Magias Academy Ataraxia" - 1,111
20 (20). "Amanchu!" - 874
21 (38). "Alderamin on the Sky" - 1,073
22 (22). "Tsukiuta. The Animation" - 1,001
23 (35). "B-Project: Kodou*Ambitious" - 984
24 (36). "planetarian ~Chiisana Hoshi no Yume~" - 866
25 (19). "Fate/kaleid liner Prisma Illya 3rei!!" - 895
26 (23). "Berserk" - 819
27 (27). "Active Raid - 2nd" - 699
28 (17). "The Highschool Life of a Fudanshi" - 679
29 (29). "Cute High Earth Defense Club LOVE! LOVE!" - 604
30 (30). "Ange Vierge" - 578
31 (41). "Regalia: The Three Sacred Stars" - 558
32 (33). "SHOW BY ROCK!! Short!!" - 492
33 (37). "Scared Rider Xechs" - 408
34 (44). "Hitori no Shita: The Outcast" - 336
35 (43). "Time Travel Shoujo: Mari Waka to 8-nin no Kagakusha-tachi" - 314
36 (49). "Thunderbolt Fantasy" - 292
37 (45). "Bananya" - 232
38 (46). "OZMAFIA!!" - 170
39 (50). "Puzzle & Dragons X" - 126
40 (47). "Mahou Shoujo? Naria Girls" - 100
Source: press release, dAnime Store