Final 10th tankobon volume is scheduled to be released in February 2017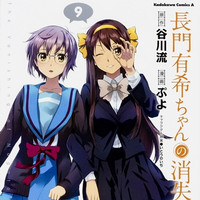 It has been officially confirmed that a monthly serialization of Puyo's Nagato Yuki-chan no Shoshitsu/The Disappearance of Nagato Yuki-chan manga finally ended in the newest September 2016 issue of Kadokawa's Young Ace published in Japan on August 4.
The spin-off manga of Nagaru Tanigawa's Haruhi Suzumiya light novel series had been serialized in the monthly magazine since its first issue in 2009. The story was set in an alternate universe featuring Yuki Nagato as the main heroine. It was adapted into a 16-episode TV anime series by Satelight in April-July 2015, the one episode OAD was bundled with the manga's 9th tankobon volume released in October of the year. The final 10th volume is scheduled to be published in Japan in February 2017.
The last two volumes of the original Haruhi Suzumiya light novel series, The Surprise of Haruhi Suzumiya, were released in June 2011. There has been no announcement for sequel since then.
Manga 1st and 9th volume covers
Web CM for the 9th volume
via: Mantan Web
(C)2016 Nagaru Tanigawa, Noizi Ito, Puyo/KADOKAWA Kadokawa Shoten/Kita High School Literature Club