Gotta grab all the Appmon around when the game drops!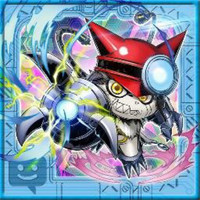 Digimon Universe: Appli Monsters is an upcoming Nintendo 3DS game under development by Bandai Namco, and it's going to end up appealing to a lot of Digimon fans across the world when it finally releases. We got our first real look at the game as its first promotional video began streaming on the official website this Friday.
As a "deck battle RPG," the game will find players being given special chips to scan to receive "Appmon," which an be "Applinked" with other Appmon and to trigger Digivolutions. Aside from the game alone, there will also be an anime series and special toy device (the Appli Drive) that comes with its own chips to collect, which will run about 240 yen apiece.
The anime series is starting this October on TV Tokyo, but there's no release date for the game that's been announced just yet.
[via Anime News Network]
-------
Fueled by horror, rainbow-sugar-pixel-rushes, and video games, Brittany is a freelancer who thrives on surrealism and ultraviolence. Follow her on Twitter @MolotovCupcake and check out her portfolio for more.