Original magical girl TV anime will broadcast on Tokyo MX, AT-X, BS Fuji, and Sun TV in October of 2016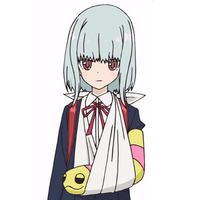 The official website for Flip Flappers, an upcoming original magical girl TV anime with direction by Kiyotaka Oshiyama and featuring animation by Studio 3Hz, has revealed oodles of new information about the series, including a new preview video, a new key visual (above), and 10 additional cast announcements. The new cast members include:
Ayaka Ohashi as Yayaka, Kokona's childhood friend and classmate. Yayaka has a cool and strong-willed personality. She adores "cream box" pastries.
Kenjiro Tsuda as Soruto, a sunglasses-sporting man who seeks to collect the "Fragment of Mimi". His facial expressions are impossible to read.
Sayaka Inoue as Toto, a mysterious elementary school student. Toto is the twin brother of Yuyu. He is the elder twin.
Airi Toshinou as Yuyu, another mysterious elementary school student. Yuyu is Toto's twin sister. She is the younger twin.
Jun Fukushima as Hidaka, a scientist who is researching the "Fragment of Mimi". Hidaka created TT-392 and various other inventions.
Yōko Hikasa as Sayuri, a woman who works as an operator. Everyday she struggles to deal with Hidaka's unusual inventions.
Kazuyuki Okitsu as TT-392, a robot that seems to have been created by Hidaka? Despite its goofy appearance, TT-392 is a high performance unit with a variety of functions, but inevitably it is bullied into doing whatever Papika wants it to do.
Michiyo Murase as Yukusukyuru, a pet that is kept by Cocona. It stretches and squishes to display various expressions. Yukusukyuru loves confined spaces.
Saori Ōnishi as Senpai, a 3rd year junior high school student who attends the same school as Cocona. Senpai is a member of the art club.
And Tamie Kubota as Cocona's Grandma, who lives with Cocona and watches her grow.
The story of Flip Flappers involves Cocona and Papika, a pair of young girls who transform and venture through the world of "Pure Illusion" in search of the "Fragment of Mimi", which is said to be capable of granting wishes.
Flip Flappers will broadcast on Tokyo MX, AT-X, BS Fuji, and Sun TV beginning in October of 2016.
Sources:
Official Flip Flappers home page and Twitter feed (@FLIP_FLAPPERS)
Paul Chapman is the host of The Greatest Movie EVER! Podcast and GME! Anime Fun Time.