A new trailer has also been posted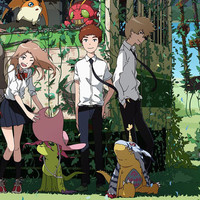 LA Based film distributor Eleven Arts and Toei Animation will be presenting an English language version (dubbed) theatrical screening of Digimon Adventure tri. – Chapter 1: Reunion with a one-night Fathom Events screening in almost 400 US movie theaters on September 15, 2016. This week, they wrapped up their English cast announcements with news that Joshua Seth, who voiced the main character Tai Kamiya in the original series, is returning to the role.
The latest round of announcements include:
Tai…Joshua Seth
Sora…Colleen O'Shaughnessey
Biyomon…Cherami Leigh
Birdramon…Melodee M. Spevack
Agumon…Tom Fahn
Greymon…Voice Actor Kyle Hebert
They join previously announced
The cast stands at
Matt… Vic Mignogna
Gabumon… Kirk Thornton
Garurumon… Kirk Thornton
T.K… Johnny Yong Bosch
Patamon… Laura Summer
Angemon… Dave Mallow
Kari… Tara Sands
Gatomon… Kate Higgins
Himekawa… Kate Higgins
Joe… Robbie Daymond
Gomamon… R. Martin Klein
Mimi…. Philece Sampler
Palmon… Anna Garduno
Togemon… Mari Devon
Nishijima… Doug Erholtz
Izzy … Mona Marshall
Tentomon/Kabuterimon … Jeff Nimoy
Meiko … Cristina Vee- Artist
Meicoomon … Kate Higgins
A new trailer has also been posted
Eleven Arts describes the anime, celebrating the 15th anniversary of Digimon Adventure:
It's been six years since the summer adventure when Tai (now in high school) and the rest of the DigiDestined crossed over to the Digital World and nearly three years since frenzied final battles between warring factions. With the gate to the Digital World closed, time continues to pass, until theadventure Digivolves once again.
------
Scott Green is editor and reporter for anime and manga at geek entertainment site Ain't It Cool News. Follow him on Twitter at @aicnanime.