Maybe you've already got a Morrigan figure, but you don't have one like this!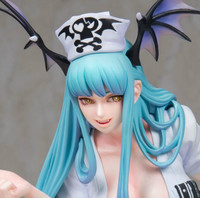 Morrigan Aensland is a perennial Darkstalkers favorite, and for good reason. She's gorgeous, powerful, and all-around awesome. That's why this new Morrigan figure, part of the Capcom Figure Builder Creator's Model series, is such an attractive piece to add to any collection.
The figure, which is set to release in late September, has Morrigan dressed up in a nurse-like uniform posing with a syringe full of blood. She's mega-detailed, as you can see, from top to bottom, with ridiculously vibrant colors and a mischievous smirk.

If you're interested, you can head to AmiAmi and preorder for about 10,390 yen. And this is definitely a figure you'll want to show off on your shelf. Just check out the detail on her!
[via AmiAmi]
-------
Fueled by horror, rainbow-sugar-pixel-rushes, and video games, Brittany is a freelancer who thrives on surrealism and ultraviolence. Follow her on Twitter @MolotovCupcake and check out her portfolio for more.