Nico Nico-born singer's 3rd major single "nameless" hits stores September 7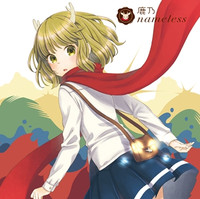 The official YouTube channel of Japanese female singer Kano has posted a full music video for her upcoming 3rd major single "nameless" to be released on September 7. The song has been featured as the ED theme for the TV anime adaptation of Bokuto Uno's fantasy light novel series Nejimaki Seirei Senki: Tenkyo no Aruderamin/Alderamin on the Sky. The song is written by Kano herself, and composed/arranged by [email protected], who is best known for his song writing works for the K-ON! anime series, including the TV anime 1st season's OP theme "Cagayake!GIRLS."
After posting several Uttatemita videos on Nico Nico Douga, Kano made her professional singer debut from Warner Entertainment Japan with her 1st single "Stella-rium" (Houkago no Pleiades/Wish Upon the PleiadesTV anime OP) in May 2015, then released her 2nd single "Dear Brave" (Heavy Object 1st ED) in November of the year.
The TV anime Alderamin on the Sky premiered in Japan on July 9, and has also been available for
Crunchyroll members worldwide except for Asia.
3rd single "nameless" MV
Artist edition CD jacket
Anime edition CD jacket
Regular edition
---
1st single "Stella-rium" MV
2nd single "Dear Brave" short MV
Source: Kano official website Japan via BARKS
© 2015 Warner Bros. Entertainment Inc.
© ©2015 Bokuto Uno/Kadokawa Ascii Media Works/"Tenkyo no Aruderamin" Production Committee