It's a collaboration for super magical girl fans, pri!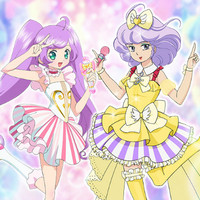 The idol anime PriPara is extremely popular in Japan, and for good reason. It's going to be getting a very special collaboration in the near future in the form of items from the magical girl series classic Magical Angel Creamy Mami.
The PriPara arcade game and the Creamy Mami collaboration launches in October, with a special Mami stage, costume, a Mami costume for Laala, and a Laala costume for Mami. It's going to bring the best of both worlds together, and it couldn't happen to a better idol game!
If you're a PriPara follower, you'll definitely find plenty to be excited about with the upcoming collab.
[via Anime News Network]
-------
Fueled by horror, rainbow-sugar-pixel-rushes, and video games, Brittany is a freelancer who thrives on surrealism and ultraviolence. Follow her on Twitter @MolotovCupcake and check out her portfolio for more.