13-song album "Ryu's The Cover" will be available on August 24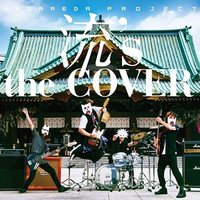 The official website for four-member masked rock band Nagareda Project has posted an eight-minute preview video for all 13 songs in their upcoming new cover album "Ryu's The Cover" to be released in Japan tomorrow. In their first cover album in four years, they perform the popular songs from the Love Live! anime franchise originally sung by its VA unit μ's. How do you like their rock version covers?
After posting several cover song videos on Nico Nico Douga and YouTube, the band made their major debut from Geneon Universal Entertainment in December 2010 with their first cover song album "NagaredaP." In addition to cover songs, they have also provided their original songs for Saint Seiya Omega, Dragon Collection, Kanpai Senshi After V, and Triage X.
The song list:
1. "Susume→Tomorrow" (TV anime 1st&2nd season insert song)
2. "Bokura wa Ima no Nakade" (TV anime 1st season OP)
3. "START:DASH!!" (TV anime 1st season insert song)
4. "No brand girls" (TV anime 1st season insert song)
5. "Natsuiro Egao de 1,2,Jump!" (TV anime image song)
6. "Kitto Seisyun ga Kikoeru" (TV anime 1st season ED)
7. "Sore wa Bokutachi no Kiseki" (TV anime 2nd season OP)
8. "soldier game" (TV anime image song)
9. "LOVELESS WORLD" (TV anime image song)
10. "Snow halation" (TV anime 2nd season insert song)
11. "Wonderful Rush" (TV anime image song)
12. "Donna Tokimo Zutto" (TV anime 2nd season ED)
13. "SUNNY DAY SONG" (Love Live!The School Idol Movie insert song)
CD jacket
Artist photo
Source: Nagareda Project official website
© 2015 NAGAREDA PROJECT