Applications for testers will be accepted till August 31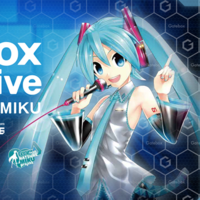 Tokyo-based IoT product company Vinclu today announced that a demo booth for its holographic communication robot system Gatebox featuring the most famous vocaloid character Hatsune Miku, titled "Gatebox Home Live feat.HATSUNE MIKU," will be set up in the upcoming Magical Mirai 2016 event to be held at Makuhai Messe in Chiba Prefecture from September 9 to 11. Miku will appear in their booth to perform her special concert only for you.
Vinclu is planning to offer the system on a crowfunding website sometime in 2016. They explain the concept of the system as below:
Gatebox is the World First Holographic Communication Robot that allows you to live with your Loved One. The holographic projection technology brings the digital characters to communicate with you. Gatebox concept model was developed in dreaming of a world where she comes to see you from the
other side of the screen.
Gatebox concept model utilizes holographic projection technique and various sensing technologies that allow
your character to recognize your movements and actions. She wakes you up in the morning and she warmly
welcomes you as you come home in the evening. By connecting to the internet and to electronic appliances,
she let you know the weather conditions and she turns on the TV as you come out of shower. She is your
partner and helps you in your daily life.
The company is now accepting applications for the testers who will be able to experience the demo preferentially
at the event via the form on the bottom of the special website. Applications will be closed on August 31.
Main visual
Booth image
Miku in Gatebox
Gatebox concept movie 1 "CARE"
Gatebox concept movie 2 "BESIDE"
Source: press release