Directed by Takashi Miike (Yatterman, Terra Formars)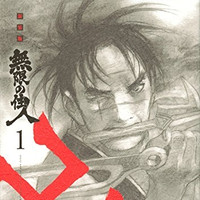 It is confirmed today that the upcoming live-action film adaptation of Hiroaki Samura's Mugen no Junin/Blade of the Immortal jidaigeki manga is officially set for a release in the Golden Week holiday period (between late April and early May) of 2017. The shooting of the film was already held in Kyoto from November 2015 to early January of 2016, and it is now in editing phase.
The only announced cast is 43-year-old Takuya Kimura as the protagonist Manji. He is a member of Japanese idol group SMAP that recently announced its breakup in the end of this year. 55-year-old Takashi Miike is attached to direct from a screenplay by Tetsuya Oishi (Deatth Note, Beck). While its final box office result was never revealed, Miike's latest film Terra Formars, based on the sci-fi action manga of the same name, has been considered as one of the box office disasters of this year in Japan.
Covers of the manga new edition 1st and 2nd volume released today in Japan
via: Eiga.com