Shinsuke Sato (GANTZ)-directed film hits Japanese theaters October 29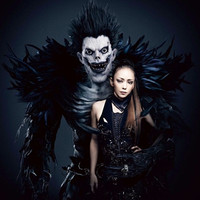 The official website for the upcoming live-action film Death Note Light up the NEW world, a sequel to the two live-action films in 2006, today announced that 38-year-old Japanese singer Namie Amuro provides the newly-written theme song "Dear Diary" and insert song "Fighter" for the film. The former is a ballad song using the title of the film "Light up the NEW world" as its concept, while the latter is an aggressive dance number written from the perspective of the heroine Amane Misa. The two songs will be released as a double A-side single this fall.
The first live-action film Death Note released in June 2006 used Red Hot Chili Peppers'"Dani California" as its theme song, then the second film Death Note the Last name featured the band's "Snow (Hey Oh)". And its spin-off film featuring Kenichi Matsuyama as L in February 2008, L change the WorLd used Lenny Kravitz's "I'll Be Waiting" as its theme.
主題歌・劇中歌アーティストが安室奈美恵さんに決定!主題歌「Dear Diary」では壮大なバラード、劇中歌「Fighter」では弥海砂目線のダンスナンバーを歌い上げます。リュークと安室さんコラボビジュアルも解禁#デスノートLNW pic.twitter.com/Nlb1MverGN

— 『デスノート LNW』公式 (@Deathnote_2016) August 24, 2016
---
Warner Brothers Japan's official Twitter has also posted more photos of Erika Toda who reprises her role
as Misa Amane filming at Tokyo Telecom Center.
#デスノートLNW 現場レポ撮影されたのはLの後継者・竜崎役:池松壮亮さん、キラの信奉者・紫苑役:菅田将暉さん、そして前シリーズに続き弥海砂を演じる戸田恵梨香さんが対峙する緊張感溢れるシーン。海砂の悲しげな目が気になります。 pic.twitter.com/Sqlhx6gskB

— ワーナー ブラザース ジャパン (@warnerjp) August 23, 2016
#デスノートLNW 現場レポ前作の『デスノート』でスクリーンデビューした戸田さん。本作では海砂も戸田さんのキャリアとリンクするように10年後に大女優になっている設定。戸田さん「海砂は改めて孤独な人だなという印象を持ちました」 pic.twitter.com/U6ykTj6EVj

— ワーナー ブラザース ジャパン (@warnerjp) August 23, 2016
#デスノートLNW 現場レポ そしてこの画像に注目!前作でツインテールがキュートだった海砂のヘアスタイル。10年後となる本作では、大人の女性らしさがありつつツインテールの名残も…!これは戸田さん自身のアイデアで生まれました。 pic.twitter.com/y4qDsJGE9d

— ワーナー ブラザース ジャパン (@warnerjp) August 23, 2016
#デスノートLNW 現場レポ「今回の作品は感情の線がすごく複雑」と語ってくれた戸田さん。海砂はどのような思いでこの10年を生きてきたのか?『デスノート Light up the NEW world』は10/29公開です! pic.twitter.com/SyHlUEGtzG

— ワーナー ブラザース ジャパン (@warnerjp) August 23, 2016
Director Shinsuke Sato is directing 300 extras
#デスノートLNW 現場レポ 吹き抜けのこのビルでは、通行人役300人のエキストラの方々も撮影に参加!佐藤信介監督からキャストの皆さんへの細かい演技指導も入りながら、通行人役のみなさんの歩く方向・速度・配置にも細かい微調整が。 pic.twitter.com/TpUYRxi2uG

— ワーナー ブラザース ジャパン (@warnerjp) August 23, 2016
---
2nd teaser
Main poster visual
Source: "Death Note Light up the NEW world" official website, Twitter
© Tsugumi Ohba, takeshi Obata/Shueisha ©2016 "DEATH NOTE" FILM PARTNERS