Akio Watanabe adapts Take's designs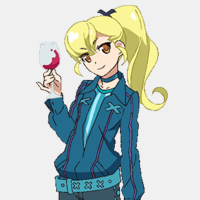 Today, details have breen revealed for Shaft's eight-OAV Kubikiri Cycle adaptation of Nisio Isin's (Monogatari, Medaka Box) first Zaregoto novel, set to debut October 26th. As previously reported from a promo ahead of the second Kizumonogatari movie, but not confirmed at the time, Yuki Kaji (Attack on Titan's Eren) and Aoi Yuuki (Madoka Magica's Madoka) lead, with a staff of Madoka and Monogatari veterans on the production.
【スタッフ・キャスト・主題歌情報解禁】
10/26第1巻発売のOVA『クビキリサイクル 青色サヴァンと戯言遣い』の最新情報を解禁!公式HPではキャラクター設定も公開!公式HP→ https://t.co/dWtI717EdC #戯言 pic.twitter.com/OVXCb18Et2

— 西尾維新アニメプロジェクト (@nisioisin_anime) August 26, 2016
Cast
Ii/Boku aka Nonsense Bearer - Yuki Kaji
The main protagonist and narrator of the Zaregoto Series. He is close friends with Tomo Kunagisa. His real name is never revealed.
vs novels'
Tomo Kunagisa - Aoi Yuuki
the heiress to the Kungisa household, a genius computer engineer and hacker, and a close friend of I.
vs
Akane Sonoyama - Yu Shimamura (Attack on Titan's Annie)
a genius scholar and one of the Seven Fools in the ER3 System.
Kanami Ibuki - Ayako Kawasumi (Fate/stay night's Saber)
a genius painter, known for having no fixed style of painting.
vs
Shinya Sakaki - Kenji Hamada (KuroBas' Teppei Kiyoshi)
the attendant of Kanami Ibuki
vs
Maki Himena - Aya Endo (Macross F's Sheryl Nome)
a genius fortune-teller and Esper.
vs
Yayoi Sashirono - Haruna Ikezawa
is a genius chef, and the longest-running guest of Wet Crow's Feather Island
vs
Iria Akagami - Mariya Ise (Hunter x Hunter's Killua Zoldyck)
heiress of the Akagami Foundation, exiled to Wet Crow's Feather Island.
vs
Rei Handa - Noriko Kuwashima
head maid who works for Iria Akagami on Wet Crow's Feather Island
Akari Chiga - Natsuko Kuwatani
one triplets who work as maids for Iria Akagami on Wet Crow's Feather Island.
Hikari Chiga - Ryoko Shintani
one triplets who work as maids for Iria Akagami on Wet Crow's Feather Island.
vs
Teruko Chiga -Yuko Goto
the youngest of the triplets who work as maids for Iria Akagami on Wet Crow's Feather Island. She is Iria's bodyguard.
vs
Jun Aikawa - Yūko Kaida
known as both the most powerful private contractor in the world and the world's greatest entrepreneur.
vs
Staff
Original - Nisio Isin
Original character designs - Take
Series Director- Akiyuki Shinbo
Director - Yuki Yase (Hidamari Sketch × Honeycomb, episode director on Madoka Magica)
Composition- Tou Fuyashi (a joint pseudonym used by the studio) , Akiyuki Shinbo
Screenplay-Yukito Kizawa (Bakemonogatari, Nisekoi)
Character design and chief animation director - Akio Watanabe
Chief animation director - Hirofumi Suzuki (Madoka Magica ending)
Storyboard · okama
Music - Yuki Kajiura
Animation production shaft
Production and Aniplex / Kodansha / shaft
The first two Zaregoto books were released by Del Rey in 2008 and 2010. They were described:
It's the vacation of a lifetime, a trip to a remote island filled with geniuses–and murder.

On Wet Crow's Feather Island, a tiny speck in the Sea of Japan, lives Akagami Iria, the exiled daughter of a powerful family. Born into great wealth, she was a princess of the highest pedigree–until she was cut off by the leader of the Akagami Foundation. For the last five years, she's lived on Feather Island with her maids. But she hasn't been alone. She has invited the best minds Japan has to offer to come and stay with her.

And so nineteen-year-old college student Ii-chan and his best friend, computer genius Kunagisa Tomo, find themselves as Iria's guests at her elaborate mansion. Surrounded by fascinating women–a chef, a fortune-teller, a scholar, and an artist, not to mention his own friend Tomo–Ii-chan is feeling a little overmatched intellectually. But the sudden discovery of a grisly murder sends the island into shock. And Ii-chan discovers that he does possess a bit of genius: the ability to discover what is real and what is fake . . . who is who they claim to be–and who is a killer.
Theme "Ultramarine Blue World" is by Sangatsu no Phantasia, comprised of
- Vocal: Mia (@3_phantasia)
- Composer: Scop (@scopscop)
- Illustrator: Natsu Asami (@72desuyo)
- Composer: n-buna (@nabuna2)
- Composer: Yuuyu (@yuuyu_ssry)
- Composer: 40mp (@40mP)
- Composer: buzz-G (@buzz_g)
Ending "Marchen" is from Madoka vocalists Kalafina.
via zaregoto-series.com/ and Zaregoto Wiki

------
Scott Green is editor and reporter for anime and manga at geek entertainment site Ain't It Cool News. Follow him on Twitter at @aicnanime.