SAT/Satoshi Yaginuma says on Twitter, "I really don't want to quit."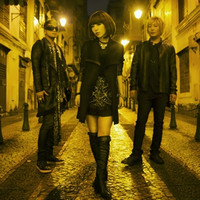 During their stage performance at the Animelo Summer Live 2016 -Toki- event yesterday, three-member unit ALTIMA announced that they will take hiatus from activities for an indefinite period. The unit's first appearance in public was at the same event just five years ago. The release on their official website is written as: "After the discussion among all the project team members, in order to show more powerful ALTIMA to everyone someday, we have decided to concentrate on each members' individual activities separately."
ALTIMA was formed by singer Maon Kurosaki, rapper Motsu (ex-m.o.v.e) and producer SAT (Satoshi Yaginuma/fripSide) in August 2011, and released five singles and one original album "TRYANGLE" in March 2014. They provided theme songs for Shakugan no Shana Ⅲ -FINAL- (1st single "I'll believe" and 2nd single "ONE"), Accel World (3rd single "BURST THE GRAVITY"), Strike The Blood (4th single "Fight 4 Real"), and the Accel World INFINITE∞BURST film (5th single "PLASMIC FIRE").
After the event, Kurosaki posted comments on her official Twitter, saying "ALTIMA will stop activities.
Starting from this year, I have felt that protecting things that I want to protect is really difficult," and
"I believe this is not the end." SAT also says on Twitter, "As I said on the stage, I really don't want to
quit, but this is the conclusion all the staff members have reached after the discussion. Thank you for
all your support till today." And Motsu delivers his appreciation, "I am impatient to find any better words
than 'Thank You'. To Maon-chan, Sato-kun and everyone, Thank you very much! Let's keep the triangle
till next time!"
ALTIMA
Source: ALTIMA official website via BARKS