SPYAIR and GRANRODEO perform the OP and ED theme songs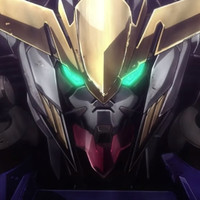 The official Japanese website for the Mobile Suit Gundam Tekketsu no Orphans/Iron-Blooded Orphans TV anime series today posted a three-minute second PV for the upcoming second season, and also announced nine new voice cats and OP/ED theme song artists.
The first season was aired for 25 episodes from October 2015 to March 2016. The first episode of the second season is scheduled to be aired on MBS, TBS, and their 26 affiliates in Japan at 17:00 on October 2 (JST). All of the main production staff, including the director Tatsuyuki Nagai and series composition writer Mari Okada, return for the new season.
2nd PV
Newly-added voice cast:
Hash Midi: Ryota Ohsaka (Klim Nick in Gundam Reconguista in G)
Zack Law: Makoto Furukawa (Hiroto Suwa in orange)
Daine Uhai: Subaru Kimura (Takeshi Goda/Gian in Doraemon)
Radice Reloto: Kazumasa Fukagawa
Kukubita Uug: Kimiko Saito (Mary in Dimension W)
Rustal Elion: Toru Ohkawa (Roy Mustang in Fullmetal Alchemist)
Ioku Kujan: Nobunaga Shimazaki (Haruka Nanase in Free!)
Julietta Julis: M.A.O (Luluko in Space Patrol Luluco)
Ishinari Kamiche: Tomoaki Maeno (Haruitsuki Abeno in The Morose Mononokean)
---
The new OP song "RAGE OF DUST" is performed by four-member Japanese rock band SPYAIR, while the
ED song "Shonen no Hate" (The End of Boyhood) is provided by two-member unit GRANRODEO. The CD
single of the ED song will be released on November 23, and details of the OP song including its release
date will be announced later.
Teaser trailer for the ED song "Shonen no Hate"
---
2nd season 1st PV
Key visual
『機動戦士ガンダム 鉄血のオルフェンズ』10月2日よりMBS・TBS系列全国ネットで第2期放送スタート! https://t.co/PdTwQNFxJ0 pic.twitter.com/gIUcnk0ybY

— ガンダムインフォ (@gundam_info) 2016年7月12日
The 25-episode first season of Mobile Suit Gundam: Iron-Blooded Orphans is now available to Crunchyroll members in the following territories: United States, Canada, Latin America, Australia, New Zealand, Europe, South Africa, the Middle East, and North Africa.
Source: "Mobile Suit Gundam: Iron-Blooded Orphans" official website
© Sotsu/Sunrise