The manga author Arakawa was satisfied with the costumes and set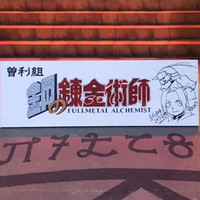 The official Twitter for the upcoming live-action film adaptation of Hiromu Arakawa's Hagane no Renkinjutsushi/Fullmetal Alchemist manga reported today that its three-month shooting was already finished on August 26. It was started in Italy in early June of this year, then moved its filming locations to Japan.
The Warner Brothers Japan-distributed film is directed by Fumihiko Sori (Tomorrow's Joe, Dragon Age: Dawn of the Seeker), and casts 23-year-old Ryosuke Yamada, a member of Japanese idol group Hey! Say! JUMP, as the protagonist Edward Elric. It is set for a release in Japan in the winter of 2017, and no official photos of the cast in costume has been revealed.
\『#ハガレン』クランクアップ!/

映画『#鋼の錬金術師』遂にクランクアップ イタリアで6月クランクイン。海外撮影は準備を含め1ヵ月間!日本各地のロケを経て8月26日無事、クランクアップを迎えました!2017年公開 pic.twitter.com/yB7M8yKNS4

— 映画『鋼の錬金術師』公式 (@hagarenmovie) August 30, 2016
---
The official Twitter has also reported that the original manga author Hiromu Arakawa visited a set during
the shooting of the film in Japan.
"Arakawa-sensei's surprise visit! In the middle of the very hot shooting, the original manga author of the
Fullmetal Alchemist manga series, Hiromu Arakawa-sensei visited a set! She gave words of appreciation
to the 'Hagaren' team, and looked at the delicately crafted costumes and set in fascination, then was
satisfied with that they beautifully expressed the images of the world of Fullmetal Alchemist."
\荒川先生 サプライズ訪問!/

猛暑の撮影中盤『#鋼の錬金術師』原作者・荒川弘先生が現場訪問! #ハガレン チームにねぎらいの言葉をかけ、精巧に作られた衣装&セットを興味深く見入り作品の世界感が見事に表現されていることにご満足 pic.twitter.com/zIrpc1gna2

— 映画『鋼の錬金術師』公式 (@hagarenmovie) August 30, 2016
"Thank you very much, Arakawa-sensei! After the tour of the set, she draw an illustration directly on the
board for the memorial photo shooting. Thanks to this surprise, the morale of the 'Hagaren' team rose to
the highest level. Then we concentrated all our energies on the last spurt of the three-month shooting."
荒川先生 ありがとうございました!

『#鋼の錬金術師』現場見学後、記念撮影用ボードに実筆でイラストを描いていただき、このサプライズに #ハガレン チームの士気はMAX 3ヵ月にも及ぶ撮影のラストスパートに全力で臨みました pic.twitter.com/LYNH4E6l6j

— 映画『鋼の錬金術師』公式 (@hagarenmovie) August 30, 2016
Source: "Fullmetal Achemist" live-action film official Twitter