Online voting will start on September 10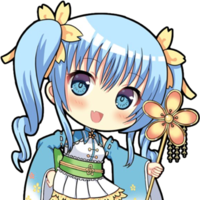 Tokyo-based publisher Gakken has started accepting online entries for the three categories of "Moe Chara Grand Prix 2016" today. The moe character contest is held to commemorate the 35th anniversary of its Animedia magazine and the publication of the 200th issue of its Megami Magazine. The three categories are: local moe chara, company/organization moe chara, and "my girl" (personal) moe chara.
Anyone or company/organization that owns its moe character who has her own Twitter account is allowed to entry. Entries will be accepted till September 30. The Grand Prix winners for each categories will be chosen by online votes, and it will be accepted from September 10 to 30, then the winners will be announced at the AniTamaSai event in Saitama prefecture on October 9.
Some of the moe characters who have already joined the contest:
Kizakura Sui (Yurihonjo-city, Akita prefecture)
Tohoku Zunko (Tohoku region)
Kitano Kamui (Hokkaido)
Boude Miu & Midorigawa Sakura (Hannan-city, Osaka)
Matsumoto Izumi (Izumi Product Company)
Kiramikado Mikoto (Nakajima acupuncture clinic)
Source: press release