Noitamina fall anime adapts Shion Miura's novel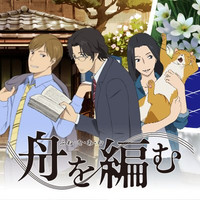 Fuji TV's Noitamina block has aimed to expand the audience for anime beyond its typical reach, and they might be living up to their raison d'être this fall with Shion Miura's novel The Great Passage. Staff includes Haruko Kumota, author of the Showa Genroku Rakugo Shinju manga, who will be providing original character designs, with the Say "I Love You." team of director Toshimasa Kuroyanagi and writer Takuya Sata on the ZEXCS production. Animator Hiroyuki Aoyama adapts the character design. Leola is on end theme "I & I."
Theme performer Leola
【EDテーマ解禁!】
TVアニメ「舟を編む」のEDテーマが、歌声を聴く方の"心の太陽"で あり続けたいというLeolaが熱唱する「I & I」に決定しました! #舟を編むhttps://t.co/cD07iPaCD0 pic.twitter.com/RT5qmsdN86

— アニメ『舟を編む』公式@2016年10月 (@funewoamu_anime) September 1, 2016
The cast members announced include:
Takahiro Sakurai as Mitsuya Majime, an employee of the Genbu Shobo publishing house, originally attached to the sales department. Mitsuya has difficulty expressing himself, but his passion for language re-ignites when he meets Nishioka.
Hiroshi Kamiya as Masahi Nishioka, an employee of the Genbu Shobo publishing house attached to the editing department. Masahi is an expert talker, but he has little interest in linguistics.
And Maaya Sakamoto as Kaguya Hayashi, a chef in training who is also the grand-daughter of Mitsuya's land-lady. While living in the same boarding house, Kaguya and Mitsuya grow closer to one another.
Additional staff members for The Great Passage were also announced, including:
Original work: Shion Miura (published by Kobunsha, Inc.)
Original character design: Haruko Kumota
Director: Toshimasa Kuroyanagi
Series composition: Takuya Satō
Character design: Hiroyuki Aoyama
Animation production: ZEXCS
Production: Genbu Shobo Dictionary Editorial Department
The Japanese Literature Publishing and Promotion Center's J'Lit: Books From Japan introduced the book
The story follows the lengthy process of compiling a dictionary, bringing a genuine sense of drama to the lives of people who immerse themselves day after day in the constant flux of language. Mitsuo Majime is 27 and in his third year of employment at the major publishing house Genbu Shobo when he is transferred to the Dictionary Department. The company is known for its excellent lexicons, and has been laying the groundwork for a major new release,Daitokai (The Great Passage)—a 2,900-page tome of the Japanese language. Led by a 37-year veteran of dictionary compilation named Araki, an editorial team of three others is chipping away at the project: a somewhat sketchy fifth-year employee named Nishioka, a contract employee who handles clerical matters, and a linguistics scholar named Matsumoto, who works as an external advisor to the project. Although Majime was regarded as something of an odd fish in the Sales Department where he worked before, his resume includes studying linguistics in graduate school, and Araki has hand-picked him to join the group in advance of his own impending retirement. Socially inept and still a virgin, Majime's only interest seems to be in collecting antiquarian books. Then Kaguya Hayashi, his landlady's granddaughter who is training as a chef in Japanese cuisine, moves into the old apartment house where he lives . . .
In Chapter 4 the story jumps forward 13 years. Amidst budgetary cutbacks from declining book sales that have hit the entire industry, Araki stayed on for a time past his official retirement age but is now fully retired, and Nishioka has been transferred out to another department as well, leaving Majime as the only regular employee in the group. Having successfully wooed and married Kaguya, he is now putting the finishing touches on the long-standing Daitokai project, but as the date of publication approaches, Matsumoto is hospitalized with stomach cancer . . .
The original Japanese title, which means "Assembling a Boat," refers to an observation made by Araki: "A dictionary is a boat to carry us across the sea of words." The film version of the novel, released in 2013, has been selected as the Japanese entry in the 86th Academy Awards (2014) for Best Foreign Language Film.
And its author
Shion Miura (1976–) , daughter of a well-known Japanese classics scholar, acquired her love of reading at a very young age. When, as a senior in the Faculty of Letters at Waseda University, she began her job hunt looking for an editorial position, a literary agent recognized her writing talent and hired her to begin writing an online book review column even before she graduated. Miura made her fiction debut a year after finishing college, in 2000, when she published the novel Kakuto suru mono ni maru (A Passing Grade for Those Who Fight), based in part on her own experiences during the job hunt. When she won the Naoki Prize in 2006 for her linked-story collection Mahoro ekimae Tada Benriken (The Handymen in Mahoro Town), she had not yet reached her 30th birthday—an unusually young age for this prize; in fact it was her second nomination. Her novels since then include the 2006 Kaze ga tsuyoku fuiteiru (The Wind Blows Hard), about the annual Ekiden long-distance relay race in which universities compete, and the 2010Kogure-so monogatari (The Kogure Apartments), depicting the lives of people dwelling in an old rundown wooden-frame apartment house. In 2012 she received the Booksellers Award for the novelFune o amu (The Great Passage), a tale about compiling a dictionary. A manga aficionado, Miura has declared herself a particular fan of the "boys' love" subgenre about young homosexual encounters.
------
Scott Green is editor and reporter for anime and manga at geek entertainment site Ain't It Cool News. Follow him on Twitter at @aicnanime.