Nobuhiko Okamoto is cast as Rei's "best friend" Harunobu Nikaidou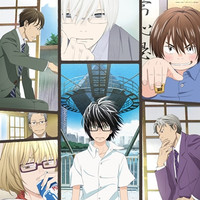 The official website of the upcoming TV anime adaptation of Chika Umino's Sangatsu no Lion/March Comes in Like a Lion shogi-themed manga today announced that it will premiere on NHK General TV at 23:00 on October 8 (JST). The main channel of Japan's national public broadcasting station is viewed by 40 million households. It is also confirmed 29-year-old voice actor Nobuhiko Okamoto (Katsuki Bakugo in My Hero Academia) is newly cast as Harunobu Nikaidou, the protagonist Ren's self-proclaimed "best friend."
The TV anime series is directed by Akiyuki Shinbo (Magical Girl Lyrical Nanoha, Puella Magi Madoka Magica), and four-member Japanese rock band BUMP OF CHICKEN performs the yet-titled OP and ad ED song "Fighter." The latter was released as the collaboration CD single that came with the 1,400-yen special edition of the manga's 10th volume released in November 2015.
Main Voice Cast:
Rei Kiriyama: Kengo Kawanishi (Mikazuki Augus in Mobile Suit Gundam: Iron-Blooded Orphans)
Akari Kawamoto: Ai Kayano (Meiko "Menma" Honma in Anohana: The Flower We Saw That Day)
Hinata Kawamoto: Kana Hanazawa (Naho Takamiya in orange)
Momo Kawamoto: Misaki Kuno (Hawk in The Seven Deadly Sins)
Harunobu Nikaidou: Nobuhiko Okamoto (Katsuki Bakugo in My Hero Academia)
2nd key visual
1st key visual
---
"Fighter - March Comes in Like a Lion meets Bump of Chicken" full MV
Jacket illustration for "Fighter"
Source: press release
© Chika Umino, Hakusensha/"March Comes in Like a Lion" Anime Production Committee